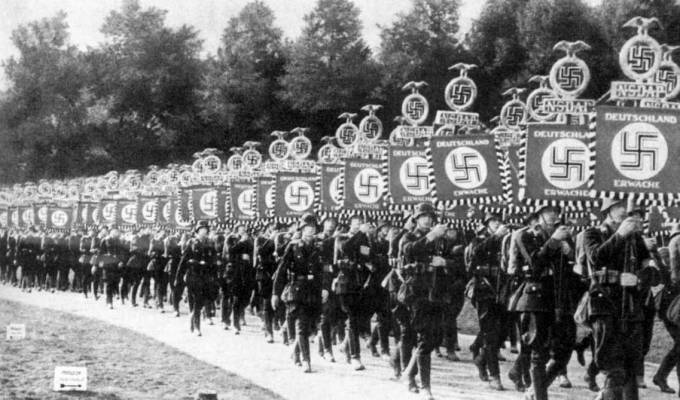 from Roger Olson:
___
One of the greatest quandaries of modern history is why the Germany leaders who were not part of the Nazi movement allowed this to happen. And why did the "average Germans" not only allow it but why did they celebrate it? (When I lived in Germany in the early 1980s I heard some elderly Germans talk about the 1930s under Hitler and the Nazis as "die schönste Zeiten" (the most beautiful times). Theories abound, but most historians agree that 1) The German people came to believe Hitler had reformed himself and was no longer the foaming-at-the-mouth radical of the 1920s and of his own autobiography Mein Kampf (My Struggle)-- written while he was in prison for attempting to overthrow the Bavarian government, 2) The German people regarded Hitler as the one person who could stop communism from taking over Germany, 3) The German people were taken in by Hitler's nationalistic fervor that promised the rise of Germany to a respected world civilization and power, 4) The German people believed Hitler would ignore or even reverse the territorial and economic losses of the Versailles Treaty, and 5) The German people were spell-bound by Hitler's rhetoric which seemed to put them into a kind of mass hypnotic trance.
By all accounts now, but not necessarily then (1930s), Hitler was a demagogue. Not only many Germans but also many Americans, Brits and Scandinavians fell under his spell. Right up until Hitler declared war on the United States the day after Pearl Harbor Hitler had powerful friends in the U.S. During the 1930s—before Hitler attacked Poland—even the British monarch and then ex-monarch Edward VIII then Edward, Duke of Windsor, was a Hitler sympathizer. In the U.S. folk hero Charles Lindbergh supported Hitler. In 1938 American fashion magazine Homes and Gardens published a photo spread and article about Hitler's Bavarian retreat. There were popular and powerful fascist-like movements in America, Great Britain and most European countries. Most of them regarded Hitler as a hero.
Many historians, this one included, believe those Hitler collaborators-from-afar simply chose to overlook Hitler's and the Nazis' anti-semitism, rhetoric of violence and actual violence toward anyone who opposed them, and sheer power, extreme German nationalism bordering on militaristic jingoism, and deceitful tactics because they were so afraid of communism and allowed themselves to fall under Hitler's demagogic spell.
___
The entire must-read post can be found
here
.