from Jared Piazza,
Real Clear Science
:
___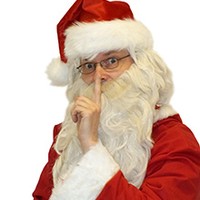 While most people agree that it is bad practice to lie to children, most parents will make an exception when it comes to Santa Claus, the roly-poly, white-bearded philanthropist who visits at this time of year with a sleighload of gifts.
Of course, not everyone's a fan – some oppose the Santa myth on religious grounds. Others dread the day when their child inevitably learns – usually from other children – that Santa (spoiler alert!) isn't real.
Others, however, reflect joyfully on their childhood Christmas experiences, and hope to recapture some of that magic with their own youngsters. But what effect does this all have on children and their development – are we better off just telling them the truth from the outset? Let's take a look at the ---scientific evidence.
___
The pros and cons can be read
here
.