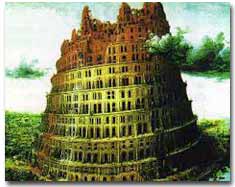 from John C. McWhorter,
The Wall Street Journal
:
___
Two thousand years ago, English was the unwritten tongue of Iron Age tribes in Denmark. A thousand years after that, it was living in the shadow of French-speaking overlords on a dampish little island. No one then living could have dreamed that English would be spoken today, to some degree, by almost two billion people, on its way to being spoken by every third person on the planet.
Thankfully, fears that English will become the world's only language are premature. Few are so pessimistic as to suppose that there will not continue to be a multiplicity of nations and cultures on our planet and, along with them, various languages besides English. It is difficult, after all, to interrupt something as intimate and spontaneous as what language people speak to their children. Who truly imagines a Japan with no Japanese or a Greece with no Greek? The spread of English just means that earthlings will tend to use a local language in their own orbit and English for communication beyond.
But the days when English shared the planet with thousands of other languages are numbered. A traveler to the future, a century from now, is likely to notice two things about the language landscape of Earth. One, there will be vastly fewer languages. Two, languages will often be less complicated than they are today-- especially in how they are spoken as opposed to how they are written.
Yet more to the point, by 2115, it's possible that only about 600 languages will be left on the planet as opposed to today's 6,000. Japanese will be fine, but languages spoken by smaller groups will have a hard time of it. Too often, colonialization has led to the disappearance of languages: Native speakers have been exterminated or punished for using their languages. This has rendered extinct or moribund, for example, most of the languages of Native Americans in North America and Aboriginal peoples of Australia. Urbanization has only furthered the destruction, by bringing people away from their homelands to cities where a single lingua franca reigns.
Even literacy, despite its benefits, can threaten linguistic diversity.
___
The entire article, "What the World Will Speak in 2115," can be read
here
.