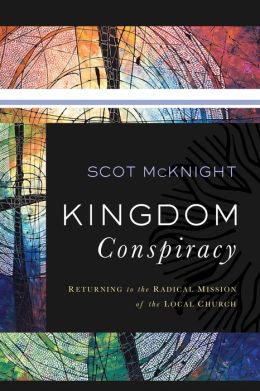 Jonathan Merritt
interviews
Scot McKnight on his new book,
Kingdom Conspiracy: Returning to the Radical Mission of the Local Church
. I have not yet read Scot's book, but I will do so within the next few weeks. I have already had several discussions with Scot on the subject and know that his views on church and kingdom are congenial with mine. In the interview Scot
states
,
Open your Bible and you will see throughout the Old Testament and into the New, and then skip around in the Jewish sources like Josephus and you will see that the natural equivalent for "kingdom" is "nation." That is, kingdom is a people under a governing and saving king. That people is Israel and the church.
Here's what matters: hordes of American Christians are far less committed to their local church because they are committed to doing "kingdom work." Kingdom for many means the bigger things God is doing in this world. A proper kingdom theology leads people to the middle of the church, not away from it. So it makes a difference when church is on the decline and people are saying they are committed to the kingdom but not so much to the church. You can't have kingdom without church.
Scot is spot on. The kingdom cannot be separated from the king, which also means the kingdom cannot be separated from the church, the Body of Christ.
What God has joined together, let no one put asunder.
___
The entire interview can be read
here
.