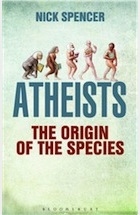 from
Michael Robbins
at Slate:
___
Science and religion ask different questions about different things. Where religion addresses ontology, science is concerned with ontic description. Indeed, it is what Orthodox theologian David Bentley Hart calls their "austere abdication of metaphysical pretensions" that enables the sciences to do their work. So when, for instance, evolutionary biologist Jerry Coyne and pop-cosmologist Lawrence Krauss dismiss the (metaphysical) problem of how something could emerge from nothing by pointing to the Big Bang or quantum fluctuation, it is difficult to be kind: Quantum fluctuations, the uncertainty principle, the laws of quantum physics themselves-- these are something. Nothing is not quantum anything. It is nothing. Nonbeing. This, not empty space, is what "nothing" signifies for Plato and Aquinas and Heidegger, no matter what Krauss believes. No particles, no fluctuation, no laws, no principles, no potentialities, no states, no space, no time. No thing at all.
Atheists: The Origin of the Species seems to have been born out of frustration with these and other confusions perpetuated by the so-called "New Atheists" and their allies, who can't be bothered to familiarize themselves with the traditions they traduce. Several thoughtful writers have already laid bare the slapdash know-nothingism of today's mod-ish atheism, but Spencer's not beating a dead horse-- he's beating a live one, in the hope that Nietzsche might rush to embrace it. Several critics have noted that if evangelical atheists (as the philosopher John Gray calls them) are ignorant of religion, as they usually are, then they aren't truly atheists. "The knowledge of contraries is one and the same," as Aristotle said. If your idea of God is not one that most theistic traditions would recognize, you're not talking about God (at most, the New Atheists' arguments are relevant to the low-hanging god of fundamentalism and deism). But even more damning is that such atheists appear ignorant of atheism as well.
For atheists weren't always as intellectually lazy as Dawkins and his ilk. (Nor, to be sure, are many atheists today-- Coyne accused me of "atheist-bashing" the last time I wrote about religion for Slate, but I really only bashed evangelical atheists like him. My father and sister, most of my friends, and many of the writers I most admire are nonbelievers.
___
The entire review can be read
here
.