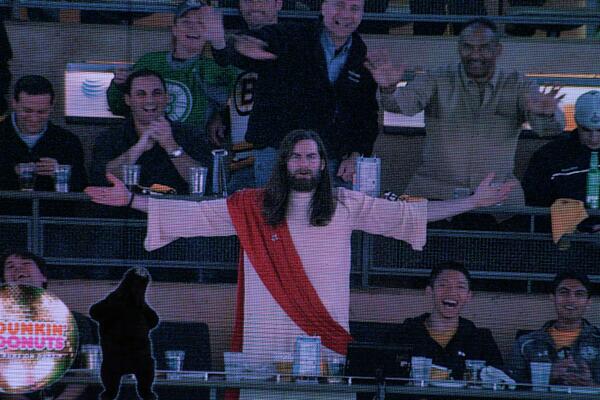 Jesus named 'Fan of the Game' at Bruins/Red Wings game on Easter
Christ was also booed during his appearance at Boston's 4-1 win over Detroit on Sunday.
By Evan Bleier | April 21, 2014 at 1:44 PM
BOSTON, April 21 (UPI) -- There was a special guest at TD Garden on Sunday supporting the Bruins in their attempt to resurrect their Stanley Cup chances against the Red Wings after falling behind in their best-of-seven series -- Jesus Christ.
After losing Game 1 to Detroit 1-0 on Friday, Boston needed a win on Easter Sunday to get back on track.
Although JC (actually a guy named Thor) may have been pleased with the Bruins' 4-1 victory, he can't have been all that happy with some other things that happened during the game.
The Bruins and Red Wings will play Game 3 in Detroit on Tuesday night with the series now knotted up at 1-1.