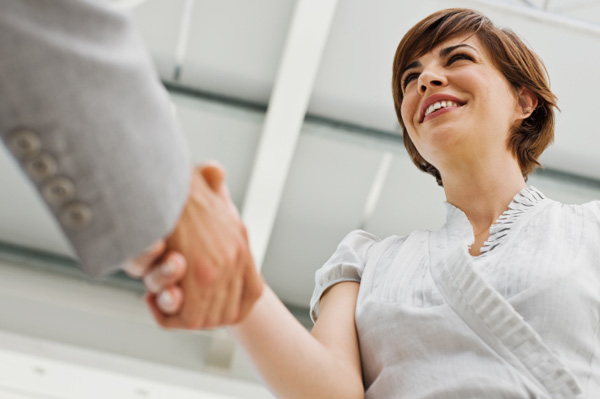 We all know the importance of first impressions. The same is true for visitors to worship on Sunday mornings. The folks in the know say that a high percentage of first-time visitors to worship make up their minds in the first fifteen minutes whether they will return for a second visit. That's before they have met the pastor or heard the choir sing and in some cases even heard the pipe organ or the praise band.
So, it's important to be welcoming, but there are things we should avoid as we welcome guests in our midst. With that in mind, I offer the following dos and don'ts, which are not exhaustive, but are the result of what those in-the-know have said as well as my own personal experience.
First, DO welcome people with a handshake and a smile and tell them how happy you are that they are here. DO ask them their names and if they are from the area. DON'T interrogate them asking for their full family history or pry too personally into their lives. (Yes, I have witnessed that happening.)
Second, DO invite them to join you for coffee and fellowship time as well as Sunday school. DON'T tell them the church has a time for coffee and fellowship or point them in the direction of a Sunday school class and then leave them to fend for themselves. (I have seen that before.) DO ask them to join YOU for coffee and Sunday school.
Third, DO let them know that the church has opportunities for service and discipleship at the church, but DON'T invite them to volunteer for the choir or ask them to teach Sunday school on their first Sunday as a visitor. (I served a church years ago where the latter did happen.) Visitors are just checking out the place to see if they might want to jump into the church's waters, so it's important that while they are inspecting the pool they don't get pushed in. DON'T be overbearing and stalking.
Fourth, DO let visitors know you are happy they are here and you are glad to serve them in any way you can. DON'T give the impression that you are happy they are here only for what they can do for us (see number 3). Visitors want a place to belong and be valued just like the rest of us. They don't want to be made to feel that they are important only for what they can offer us. The consumer model of ministry works both ways.
Fifth, after the service, visitors may have some questions about the church. Answer them as clearly as possible, but DON'T hold them captive in the pew for half an hour. (One Sunday years ago, I watched a parishioner literally follow visitors out the door talking and stalking the entire way.) Such going on becomes droning on, and that does not leave guests with a good impression. Be respectful of their time and their desire to leave and get on with their day.
Sixth, immediately after worship DO speak to the visitors first. DON'T greet the long-time members before you engage the guests. Visitors normally make a bee-line for the exit. If you greet your friends first, you will likely discover that the visitors you intended to speak to next are gone (I have witnessed this one often.)
Seventh, DO let visitors know about the good things happening at the church. DON'T complain about the problems. (Yep, been there, seen that.) If they return and become involved in the life of the church, they will soon discover the congregation's and the pastor's imperfections.
Anyone who would like to add to the list, please do so in the comments.